Suzanne Williams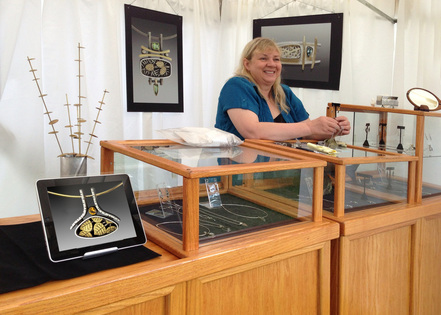 "The digital sign that ellipteo designed for me worked out extremely well. It contributed significantly in boosting my sales. I was able to show past work, drawings, and works in progress, conveying more about my scope as an artist.
Many people watched the whole presentation from start of finish and I was able to take orders for works that were displayed on the sign. I will definitely use this tool in future shows."
Suzanne has been a colorado metalsmith and artist for over 20 years and during that time has developed an ever-growing following in the region. For a recent show at the Evergreen Arts Festival ellipteo designed a solution for Suzanne which consisted of a six-minute presentation of about 150 images of work from the last 15 years, along with Suzanne's expertly rendered drawings which were sometimes paired with completed pieces. The presentation allowed Suzanne to better present the depth of her work and experience.
All image editing & prep done by Heidi Eversley Suzanne Williams Website
---